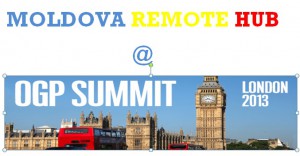 Moldova OGP Hub in the context of OGP Annual Summit
As the Annual OGP Summit is approaching, more and more discussions are taking place in OGP member countries around the Summit Agenda, opportunities to engage in the discussions, ways to exchange views on critical issues, what works and what does not work when it comes to Open Government, experiences of civil society organizations related to their efforts to keep Governments accountable and many more.
Moldova is going to have its Remote Hub in the context of the upcoming Summit on October 8th, 2013. The event is organized by the civil society working group on E-Government/Open Government (that is part of the National Participation Council) in partnership with E-Government Center (public institution in charge of the Open Government Agenda) and World Bank office in Moldova.
The event will bring together representatives of civil society organizations, Government, developers' community, media.
The most important objectives of this local event are:
- To share/review the most important aspects to be addressed during the Annual Summit of the Open Government Partnership;
- To discuss the up-to-date progress made on the elaboration process of the Action Plan on Open Government for 2014-2015 – key challenges and difficulties faced by civil society organizations, expected results, role of the central public authorities in the process, results of the sectorial discussions on the new commitments, input from the broader community to the plan provided through survey monkey tool, facebook and other social media, progress made on the Open Data component;
- To analyze ways through which civil society in Moldova can have a greater involvement in the Open Government Agenda – current needs, obstacles, emerging opportunities;
- To formulate specific questions, recommendations, suggestions that will be forwarded to the organizers of the OGP Annual Summit (including session moderators, experts, speakers).
It is expected that up to 25 participants will join the event, while participants in the region will be able to join the discussions via Skype.
Results of the local hub in Moldova will be shared shortly after the event!
NOTE: such local events are expected to happen in several OGP member countries, thus, participants from all around the globe have the opportunity to bring their local perspective, their voice, their ideas and recommendations for future, into the broader dialogue around the Open Government Summit.