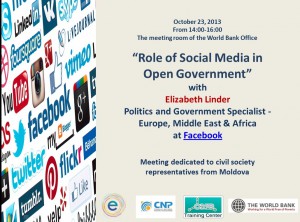 During the week of October 21-25, 2013, Politics and Government Specialist (Europe, Middle East & Africa) @FACEBOOK, Elizabeth Linder, will meet civil society representatives in Moldova to discuss the "Role of social media in Open Government". Moldova, being a member of the Open Government Partnership (OGP), should explore all possible means to engage citizens in decision-making processes, provide platforms for interaction and exchange of views and opinions, in addition to promoting transparency, accountability and use of technology to improve the quality of public services!
We will look into the opportunities and limitations of social media when it comes to Open Government :
- How citizens and civil society could use social media to keep government transparent and accountable? How citizens could build "online/real time" alliances to advocate for their rights and interests?
- How social media has changed the content of Democracy and Participatory Government?
- How Government could/should use Social Media to increase transparency and deliver better services to its citizens, engage and connect with citizens?
- Is Social Media a way for conducting official business or just an informal communication with the public? Is it for making policy decisions, official public noticing, and discussing items of legal or fiscal significance that have not previously been released to the public?
- How Governments should react to citizens' voices shared through social media? How 'serious' citizens' feedback becomes once it comes via social media and not through printed, signed and stamped letters?
- Others …
The event is organized by the E-Government Center in partnership with civil society working group E-Government/Open Government (part of National Participation Council), and World Bank.
NOTE: on October 23rd, Veronica Cretu, Coordinator of civil society working group E-Government/Open Government will conduct a session on the Role of Libraries in Open Government, with participation of more than 100 librarians from all around the country as part of the "Citizen engagement – E-transformation@Libraries", organized by B.P.Hasdeu Municipal Library and Moldova Association of Librarians.