The data is out there – now it's time to make sense of it (and have fun)!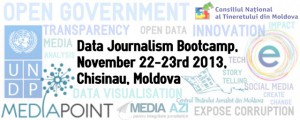 Do you want to learn how to extract, analyze, and visualize public data to give your stories the most impact?
If you're a young journalist, journalism student or a data enthusiast, check out our event website andapply for our data journalism bootcamp!
Our host country for the event, Moldova, became one of the first 16 countries in the world to launch an open data portal in April 2011, and has subsequently released hundreds of datasets under theWorld Bank's BOOST initiative.
The goal of releasing this data is so that it can become actionable intelligence: a launch pad for investigation, analysis, and improved government accountability and public service.
Open data improves transparency and, transparency mitigates risks of corruption, but, only to the full extent if this data can be analysed and understood by citizens.
Journalists are in a unique position to assist with making data actionable, by distilling complex information to the public in a comprehensive and meaningful format if equipped with the skills to manage this influx of data. This is where we are here to help!